>
Home
>
Trending Now @ Abney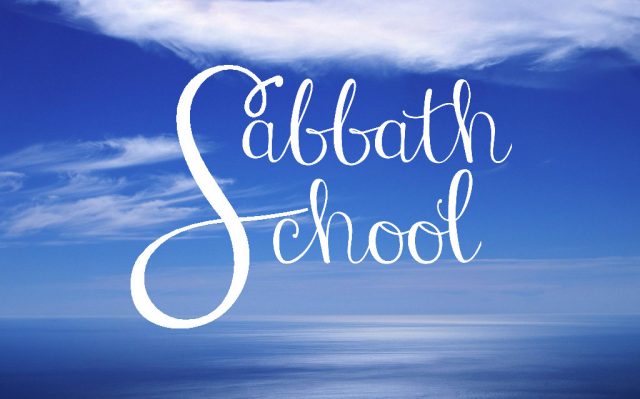 The Sabbath-school affords to parents and children a precious opportunity for the study of God's Word.

But in order to gain that benefit which they should gain in the Sabbath-school, both parents and children should devote time to the study of the lessons, seeking to obtain

a thorough knowledge of the facts presented, and also of the spiritual truths which these facts are designed to teach.
                                               March 10, 2018
                                                   9:15 am
 
Superintendent ……….…Sister Rachel Owens
                                    
Opening Song
 
Opening Prayer
 
Superintendent Remarks
 
Secretary Report
 
Special Music
 
Mission Story
 
Lesson Study
The Prayer Band Meets After Sabbath School In the Library
 
 
Personal Ministry
                                                                                                                                   Sabbath School Discussions in Video
                                                                                                                             Lesson 10
                                       1.           Short Points 
                                              Debt: A Daily Decision
                                      2.     MelVee Sabbath School 
                                              Pretoria, South Africa
 Other Resources for SS Lessons: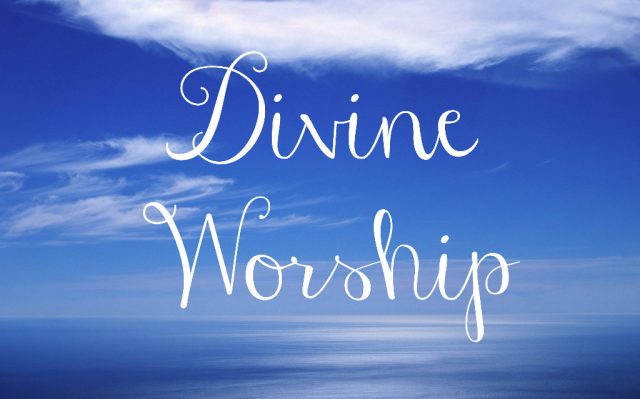 March 10, 2018
"The Lord's Business"                                                         11:00 am
Pastoral Remarks….....................................................Dr. Sherwin Callwood
 "High Worship"                                                                   11:15 am
Musician…...................................................................Sis Juanita Meekins
Introit/Call to Worship…………......................................................Deacon
Processional...................................Pastor, Elders, Deacons, and Deaconess
Invocation/Psalm of Praise………...................................Elder John Suggs
Doxology…...#694..........."Praise God from Whom All Blessings Flow"
Fourth Commandment ……………...….......................Elder John Suggs
*
Hymn of Praise....................#518...................."Standing on the Promises"
*
Praise and Worship………………………………..The Johnson Sisters
*
Intercessory Prayer………...…...….................................Elder John Suggs
Response …………...#684……………… "Hear Our Prayer, O Lord"
*
Special Music….……...……………….…...........................Chancel Choir
*
Tithes and Offerings…………………...…............Elder Ronald Wheeler
Response…………..#670……………"We Give Thee But Thine Own"
*
Children's Chapel………………………………………………………
Welcome/Greetings……..…...Sis Rachel Owens and Elder Tye Vaught
*
Scripture……….………………….........................Elder Ronald Wheeler
*
Song of Meditation……...........................................................Chancel Choir
Spoken Word…………………………...…..........Dr. Sherwin Callwood
Appeal.…………………………....................................................................
Benediction…………………………………........Elder Ronald Wheeler
Recessional…………………............Pastor, Elders, Deacons, Deaconess
* Worshipers may enter
"Standing on the Promises"
#518
1
Standing on the promises of Christ my King,
Thru eternal ages let His praises ring;
Glory in the highest I will shout and sing,
Standing on the promises of God.
Refrain
Standing, standing,
Standing on the promises
of God my Savior;
Standing, standing,
I'm standing on the promises of God.
2
Standing on the promises that cannot fail,
When the howling storms of doubt and fear assail,
By the living word of God I shall prevail,
Standing on the promises of God.
3
Standing on the promises of Christ the Lord,
Bound to Him eternally by love's strong cord,
Overcoming daily with the Spirit's sword,
Standing on the promises of God.
                                                                      …I was sick, and ye visited me:  Matthew 25:36
                                      Remember the Sick and Shut-In



  
Take a moment to remember in prayer and to show love through acts of kindness, to those members who are unable to worship.

Bro Richard L. Hannon                                                                                                 
Bro Andrew Murphy
Sis Dorothy Peterson 
 
​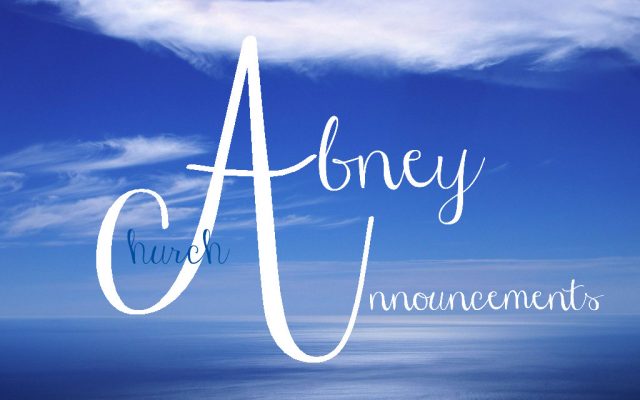 March 10, 2017
Today at Abney: 
We welcome and are happy to have all our visitors worshipping with us today. We pray that you receive a blessing, and that you will come again. Happy Sabbath!

Always in our Thoughts
Please remember all of our members in the military, those working overseas, and their families in prayer.

 Church Van
 If you need a ride to church, please notify the church van drivers by Wednesday.  (Please contact Bro Oscar King at: 910-213-2205; or Bro Jean Angrand 910-849-8573.)
  
South Atlantic Conference Tri-State Youth and Young Adult Big Sabbath Outreach, is a conference wide, multi-city event, beginning at 3:00 pm today. Young people are leaving the pews to show our communities we care. Fayetteville was chosen as one of the three cities in North Carolina and Sis Danita Roey is North Carolina's Captain in Fayetteville.  In NC, the other two cities are Charlotte and Greensboro. For more information about today's Big Sabbath Outreach, please see Sis Danita Roey.
Carpet Cleaning
Please submit your contribution towards cleaning the church's carpet, in a Tithes envelope and mark it "Carpet Cleaning" no later than March 17, 2018.  We would like to get this done as soon as possible. Thank you!
A.M.E.N
Greetings Family and Friends.  The mega event of 2018 is rapidly approaching.  "What event," you ask?  Well, the Adventist Medical Evangelism Network (a.k.a. AMEN) mega event in collaboration with Impact Your Health Fayetteville is coming to the Crown Coliseum Expo Center on April 13th and 15th.  You've heard about it for months, and now it's almost here.  This free medical clinic has emphasis on dental and optometry screenings and interventional procedures and care.  We are still in need of Dentists, Dental Hygienists, Optometrists and a host of other general volunteers to ensure we have a successful event. 
The host site for this event is now up and running.  It is found at: Amenfreeclinic.org.  At this site you can volunteer, donate and learn & share information about this one-of-a-kind medical mega event.  All donations are tax-deductible and, all volunteers receive two things: 1) a t-shirt commemorating their participation in this mega event and, more importantly, 2) the joy of serving the Lord and His underserved loved ones in the greater Fayetteville/Cumberland County area. 
Don't miss this opportunity to get involved in the biggest event of its kind to come to this area.  Donations of all sizes are deeply appreciated and hands and feet of all ages, races and national origins are welcomed.
If you have questions please see Sis Joan Daniels, Pastor Sherwin Callwood, Elder Mitchell Harris, Sis Caron Branch, Sis Karen Walker, Elder Patrick Tyrill, Bro Tony Daniels, or Elder Gary Walker.
 "And the King shall answer and say unto them, Verily I say unto you, Inasmuch as ye have done it unto one of the least of these my brethren, ye have done it unto me." (Matt 25:40)
Blessings always...Elder Walker
Church Van
If you need a ride to church, please notify the church van drivers by Wednesday.  (Please contact Bro Jean Angrand 910-849-8573.)
Gertrude McNeil Alumni Association
The Gertrude McNeil Alumni Association will meet tomorrow at 3:00 pm in the Fellowship Hall.  All members are asked to be present and on time.
Music Ministry Corner
Thank You:  On Behalf of the Music Ministry Team I would like to thank all of the members that came out to the luncheon last Sabbath. We had a wonderful fellowship, and GREAT food… Special Thanks to Elder Harris for your continued support and to my secret chefs for providing the food!
If you did not get a chance to come out to the luncheon and you still would like to be a part of our team PLEASE contact me!
Sis Janice Swoope 910-286-0367 or swoope83@gmail.com
Needed:   Choir Director for our young lambs age 4-11
Rehearsals: Contemporary Praise Team Friday March 16th at 6:00 p.m.
Please see Sis Joan Daniels if you would like to sing with this group!
Public Affairs and Religious Liberty Conference
"Wake Up! Your Religious Liberties are Under Attack!"  April 27 -29, 2018 at the River Oaks Convention Center and Campground, Orangeburg, SC.  Find out what your First Amendment Rights are; Religious Ethics vs. Government Laws; Is Religious Liberty Safe in the 21st Century? Find Out What is Threatening Your Religious Liberties; How to Prepare for the Coming Crisis 
Register now by calling Olivia Morrison at 404-792-0535 Ext. 107.  If
paying by credit card call Marlene Edwards 404-792-0535 Ext 111.  The cost is $98.00, and it includes everything, one night's lodging, meals and materials. 
Religious Liberty
The Religious Liberty Department is asking the Abney Chapel Family to prayerfully consider donating $10.00 per member or whatever the Holy Spirit impresses you to donate. Visitors are also welcome to donate if the spirit impresses you to give.
How my offering is used: Your Religious Liberty Offering will sponsor Liberty magazine subscriptions to high-level government officials, federal, state, and provincial judges, and prominent social and religious leaders through North America. Your generous gift will also be used to support the North American Division litigation fund resources needed to defend and preserve your religious liberty in court when necessary. And a portion of your offering is returned to your local union to aid in religious liberty promotion and education.
God Bless
Shenandoah Valley Academy Mission Trip
Bro Xavier Lewis has the opportunity to go on a Mission Trip with his school, Shenandoah Valley Academy to Peru, South America during his Spring Break, but he needs your help.  The total cost of the trip is $1,700.00 and Xavier has a balance due of $600.00.  If you are able and would like to make a donation towards Xavier's trip or would like more information, please see his mother, Sis Eloise Rey.  Thank you!
South Atlantic Health Leadership Conference
The health leadership convention has been postponed until further notice because of the numerous meetings that are taking place at the camp ground in April and May 2018. An announcement will be sent out after camp meeting concerning the leadership convention.  Please be reminded of the upcoming SAC biennial Nurses' Retreat, "Committing to the Journey," April 20-22, 2018, River Oaks Convention Center, Orangeburg, SC.
It is my prayer that each one of you is enjoying health and blessings from our Creator. 
Yours for a soon coming Savior,
Pastor D.M. Jones
Director of Health Ministries
South Atlantic Conference
The Best Nurses' Retreat #3
The Best Nurses' Retreat #3, "Committing to the Journey", is April 20-22, 2018.  Early Bird: Retreat Cost $260.00/double occupancy; Private Room Cost $320.00.  Includes: Registration, 5 meals, general sessions, all activities & seminars –  fee is transferable
After April 5th Retreat Cost $280.00/double occupancy; Private Room Cost $340.00
There will be an Alzheimer's seminar open to the public on Saturday afternoon.  Location: River Oaks Convention Center; 514 Neeses Hwy; Orangeburg SC 29115
For information contact: Ann Mason (910)265-2256;
Email: annmason02@earthlink.net
Send registration forms with check or money order, payable to:
South Atlantic Conference (SAC), P.O. Box 1688, Decatur Georgia, 30031 OR Credit card payments available on a secure line at SAC
Contact person Marlene Edwards: 404-792-0535, ext. 111
Registration forms may be found on the table in the church foyer.
Spring Ahead
Daylight Saving Time begins at 2:00 am tomorrow morning.  Don't forget to move your clocks ahead one hour.
Transfers into Abney Chapel:  First Reading
Rona Brown, Shania Brown, Curtis Brown Jr. Ronisha Brown, Tim Clark, Caolita Clark, Camoni Fisher, Kemon Fisher, Hervest Fuller, Betty Fuller, Courtney Thompson, Sherita Thompson
Note: If your transfer has not gone through on eAdventist one main reason is because the clerk does not have the information from your home church.  Please make sure your transfer has been completed.
Women's Ministries
Certification for all SAC Women, culminating with Sanctuary Study/Finalization will be held at South Atlantic Conference River Oaks Campground, Orangeburg, SC. See Sis Blondelle Lake-Carter for further information 
Please remember our commitment to the women in the woods and the weekend meal program for the children.
All announcements for the bulletin are due No Later Than 12:00 pm each Wednesday.
Please email your announcement to:  Abneychapelbulletin@yahoo.com​
WEEKLY SERVICES AND ACTIVITIES
Sabbath School:                                                                9:15 am
AYS:                                                                                 TBA
Midday Prayer Meeting:                                                     Wednesday 12:30 pm
Prayer Meeting:                                                                 Wednesday 7:00 pm
Chancel Choir Rehearsal:                                                   Wednesday 6:00 pm
ADMINISTRATIVE MEETINGS
Church Board Meeting 3
rd
 Sundays at 9:00 am
Church Business Meeting 4
th
 Sundays at 2:30 pm
OTHER MEETINGS
AYS Council 1st Mondays at 6:30 pm
School Board 2nd Tuesdays at 6:30 pm
Asset Management Committee 1st Tuesdays at 6:30 pm
Worship Council 2nd Sundays at 1:30 pm
Elders Meeting 2nd Sundays at 2:30 pm
Evangelism Committee 3rd Thursdays at 6:30 pm
Administration Committee 4th Thursdays at 6:30 pm
Disability Committee every 2nd Sunday at 2:30 pm
Stewardship Committee 1st Sabbath/Saturdays following Divine Service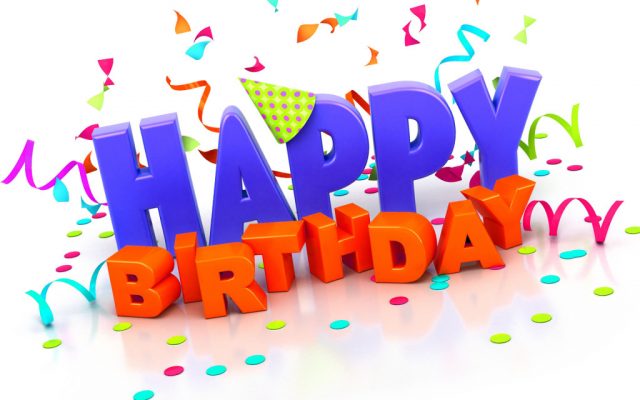 March
04 Celvin and Calvin Hines
06 Joshua Adeyeye
06 Francis Jackson
09 Lawrence Vincent
10 Shemeka Reynolds
11 Brenda Vaught
14 Lou Dove
16 Devin Foy
16 Juanita Meekins
17 Yakina Vincent
20 Judah Hannon
20 Timothy Moseley
21 Andrew Reese, Jr
22 Michael Roey
24 Xavier Smith
25 Janell Adeyeye
26 Sarah Wheeler
26 Christopher Curse
30 Vernon Hart
31 Danita Roey