>
Home
>
Trending Now @ Abney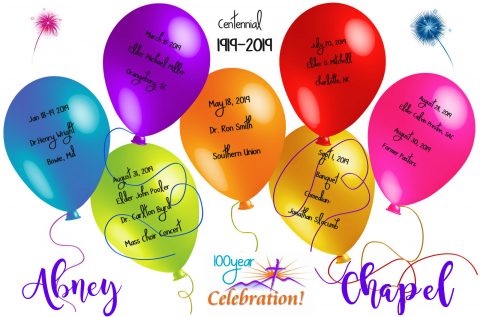 TRENDING NOW AT ABNEY
                                                    CLICK FOR MORE INFORMATION
Centennial Celebration Activities
---
                     Abney Chapel
Seventh-Day Adventist Church
                  Dr. Sherwin Callwood, Sr. Pastor
                                                Email: scallwood@ sacsda.org
We warmly welcome everyone to worship and rejoice in the Lord, our God, maker of heaven and the earth, ruler of all creation.  Welcome to Abney Chapel, where together in Christ we are family.
                     July 20, 2019 ~ 9:15 AM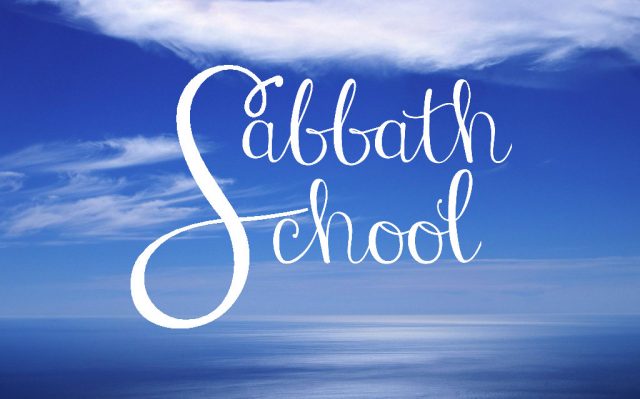 "The Sabbath-school affords to parents and children a precious opportunity for the study of God's Word.
But in order to gain that benefit which they should gain in the Sabbath-school, both parents and children should devote time to the study of the lessons, seeking to obtain a thorough knowledge of the facts presented, and also of the spiritual truths which these facts are designed to teach."...…..Testimonies on Sabbath School Work...Page 10
Superintendent
Opening Song
Opening Prayer
Superintendent Remarks
Secretary's Report
Special Music
Mission Story
Personal Ministry
The Prayer Band Meets After Sabbath School  In the Library
                                 Sabbath School Discussions in Video
                                        Lesson 3~ Third Quarter
                                    Family Seasons
Short Points 
                                    Other Resources for SS Lessons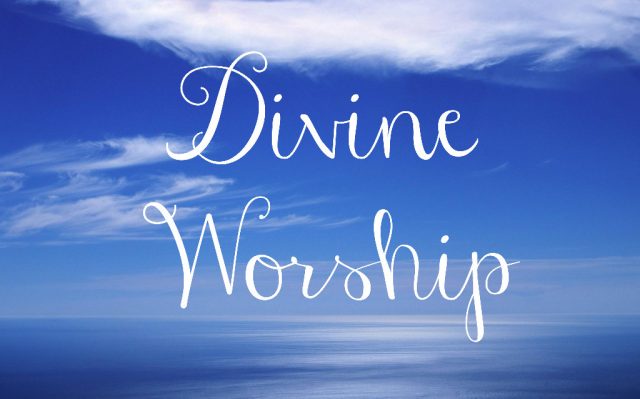 July 20, 2019 ~ 11:00 AM
Celebrating The Past (Church School circa 1940's)
Introit…………………………………...Shameka Murphy
"We've Come This Far By Faith"
Prayer of Invocation……………...…………......Alberta Bailey
Doxology……………………………………….Barbara Jones
"Praise God From Whom All Blessings Flow"
Fourth Commandment……………....................Patricia Morris
Affirmation of Faith……....John 3:16-17.……..Patricia Morris
Hymn of Praise..........................#100........................Barbara Jones   
"Great Is Thy Faithfulness"
Welcome ……………………………………….Karen Walker
Dr. Sherwin Callwood, Sr. Pastor
Greetings ……………....City Official – Judge Edward A. Pone
Centennial Committee Chair: Paulette Reese
Musical Selection……..……"A Musical Reflection of the Past
Written and accompanied by Sis Bettye McKinnon
Church School History………………………..Francis Jackson
Committed to the Future (Circa (1994)
Children's Chapel….…………………………...Brittney Rowe
Praise and Worship…………………............Whitney Cornelius
Intercessory Prayer………………..................................Tia Jones
Special Music……………………………....Whitney Cornelius
Tithes and Offering…………................Dr. Clausyl Plummer Jr.
Musical Interlude…………………………….....Daniel Bastien
Response……............................................................Barbara Jones
Committed to the Future (Church School Now)
Introduction of the Speaker………………...Edmund Johnson
Song of Meditation….................................................Gospel Choir 
Scripture……… …………………………………….Sean Bell
Spoken Word………………………....Pastor Godwin Mitchell
Appeal ………. …………………………...Whitney Cornelius
Benediction……….……………………………..Zyniah Smith
* Worshipers May Enter
                                        …I was sick, and ye visited me:  Matthew 25:36
                       Remember the Sick and Shut-In



  
Take a moment to remember in prayer and to show love through acts of kindness, to those members who are unable to come to worship services. 
Bro Richard L. Hannon....608 Knob Court, Fayetteville, NC 28303
Bro Oscar King
Sis Ruby McSwain
Bro Andrew Murphy......6200 Twiggs Court, Hope Mills, NC 28348
Sis Dorothy Peterson ……………Grand at River Valley
                                         Nursing Center Room #503A
                                          140 Main Street
                                          Poughkeepsie, NY 12601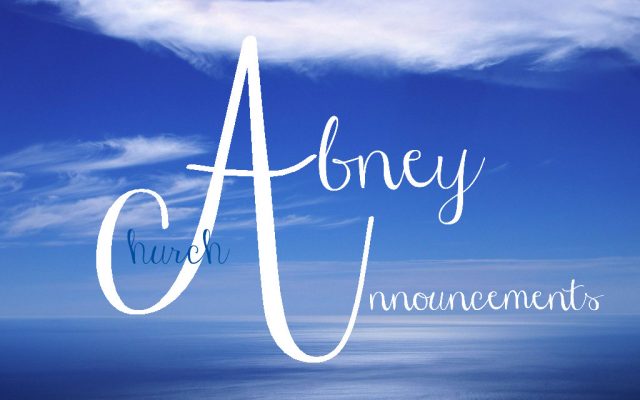 Abney Chapel Community Service Announcement: August 10, 2019 - Juice Boxes Donation -   Juice boxes are needed to put in the lunch bags that will be given out during the Back to School Event.  If you want to donate juice boxes please give them to Jean  Jon, Mitchell Harris or Mabel Hines  by 10 August 19.  These individuals will take your juice boxes to the community service building for you.  Please help your community services with a donate of juice boxes.
August 22, 2019 –Back to School  Event – Where: Walker Spivey School GYM
Time: 5 -8 pm  - Free Event / School Supply Give Away - Come and Have Fun With Us
August 22, 2019 – Blood Drive Event - Where:  Walker Spivey School Gym - Time: 3- 8pm (this event is a part of the  Back to School event but will start at 3pm ) –  The Blood Connection  from Raleigh North Carolina  will be the blood bank sponsoring  the blood drive. By donating blood, you will be supporting your community service because  proceeds will go to your community service. This will be an opportunity for everyone to give back to the community.  Use this link to schedule your blood donation, https://donate.thebloodconnection.org/donor/schedules/drive_schedule/132367
Centennial Committee: T-shirts are available on Wednesday after Prayer Meeting and after AYM. Thank you.
Our Centennial celebration finale will take place August 28 – September 1, 2019.
All those traveling from out of town who wish to book a room for the 100th Centennial Finale weekend, August 29-30 & September 1, 2019 at a discount rate, please go to the Embassy hotel link at: 
https://embassysuites.hilton.com/en/es/groups/personalized/F/FAYFBES-ACR-20190829/index.jhtml?WT.mc_id=POG 
before July 24, 2019.
God Bless, Sis. Paulette Reese 
Deaconess: July 21st at 12:00 pm, Sis Branch would like to meet with all deaconess, deaconess-in-training with their parents, and all those interested in becoming a deaconess or junior deaconess along with their parents in the Fellowship Hall.
Lunch Program: Kids eat FREE this Summer – Cumberland County Schools Child Nutrition Services is Kicking Off Summer with Summer Meals For KIDS And TEENS June 3rd – August 2nd - Ages 18 years and younger eat lunch for FREE (No application. No cost). See all locations/times at: http://bit.ly/2Kcvgum. May also text "summer meals" to 97779 or call toll free 1-866-348-6479.
Music: For all of those who are wanting to be a part of the Centennial grand finale choir please be in attendance for the first practice on July 20th. Mr. Grace will be here to direct and prepare everyone. If you know of any old members that are no longer attending Abney that would like to be a part, please spread the news. 
GFAA Announcements:  GFAA is extending an invitation to Abney Chapel Church to set up a booth at no cost on the evening of the Back 2 School Blast on July 28 between the hours of 3pm-6pm. Booth may spotlight specific department(s) within the church, provide activities, or showcase artifacts etc.
We are collecting school supplies items such as:
No. 2 pencils * Pencil sharpeners * Scissors *
Highlighters * Pencil pouches * Washable markers * Erasers * Backpacks * Blue or black pens *
Personal organizers/calendars * Lunch boxes *
Hard covered notebooks * Glue/glue sticks *
Copying paper * Colored 8x11 card stock paper*
ITEMS DUE TO THE SCHOOL NO LATER THAN JULY 26.
Shakuntala Ramsarran
Principal
Greater Fayetteville Adventist Academy
Month May 2019
Monthly Budget              Monthly Actual Received                        Difference
   $14,277.18                $14,048.45                               ($228.73)
NOTE: Budget not met
Mt Sinai SDA Church: On July 20th 2019, we will have a homeopathy doctor in to assist us with using the natural herbs for healing our bodies. That will be about a two hour workshop after lunch.
On August 24th 2019, we are having our Friends and Family Day/Concert, guest speaker will be President William Winston from South Atlantic Conference.
We will have 11:00 hour at Mt. Sinai Church 700 Bragg St. Sanford, NC  Lunch and concert will be at First Calvary Baptist Church, 240 Fields Dr. in Sanford, NC
Hope to see you at each special day.
Yours in Christ.
Elmira Garner, Clerk
Leadership
Pastor Gregg Robinzine
Vegan Cooking Classes UPDATED: South Atlantic Conference ABC Bookstore Vegan Cooking Class - Vegan cooking classes will start Sunday 8/11/19, and will be held every 2nd Sunday of the month for 6 months (from 1:00 to 3:00) ending on Sunday 1/12/20.  There is a $30.00 charge for all 6 classes.  If you are interested in the class or if you have questions please call Mary Murdock at 404-799-1003, Ext. #300 or at 404-274-7146.
"We've Come This Far By Faith"
Chorus:
We've come this far by faith,
Leaning on the Lord;
Trusting in His Holy word,
He's never failed me yet.
Oh' Can't Turn Around,
We've come this far by faith.
 
Don't be discourage when trouble's in your life, He'll bear your burdens and move all misery and strife. That's why we've…
 
Chorus

Just the other day, I heard someone say
He didn't believe in God's word;
But I can truly say, the Lord has made a way,
And He's never failed me yet. That's why we've…

Chorus
~~~~~~~~~~~~~~~~~~~~~~~~~~~~~~~~
"Great is Thy Faithfulness" #100

Great is Thy faithfulness, O God my Father;
There is no shadow of turning with Thee;
Thou changest not, Thy compassions, they fail not;
As Thou hast been, Thou forever will be.
Refrain
Great is Thy faithfulness!
Great is Thy faithfulness!
Morning by morning new mercies I see.
All I have needed Thy hand hath provided;
Great is Thy faithfulness, Lord, unto me!

Summer and winter and springtime and harvest,
Sun, moon and stars in their courses above
Join with all nature in manifold witness
To Thy great faithfulness, mercy and love.

Pardon for sin and a peace that endureth
Thine own dear presence to cheer and to guide;
Strength for today and bright hope for tomorrow,
Blessings all mine, with ten thousand beside!
Those who raised funds for Krispy Kreme will be able to use what they earned towards their trip. Thank you so much for your time and if you have any questions please feel free to respond back, and Sister Karen will get back to you as soon as possible.
Sincerely,
Michelle Holmes, Master Guide, Counselor and Nurse for the Golden Eagles Pathfinder Club
Mango-Pineapple Beverage or Pineapple-Mango Beverage
This recipe is versatile.  If you prefer to have more of a pineapple or mango flavor, just swap the measurements!
1 large mango
2-3 C pineapple
1" of fresh ginger root
1-2 C crushed ice
Blend all ingredients. Mmmm, so heavenly!
Thanks Nicole!
Got questions?  Ask Ruth 917-496-2421.
WEEKLY SERVICES AND ACTIVITIES
Morning Joy:                                      Sabbath    8:30 am
Sabbath School:                                                 9:15 am                                                                    
Bible Study                                         Sabbath  5:00 pm
AYM:                                                  2nd and 4th Sabbath     6:00 pm
Midday Prayer Meeting:                      Wednesday 12:00 pm
Prayer Meeting:                                 Wednesday 7:00 pm
Chancel Choir Rehearsal:                   Wednesday 6:00 pm
Calendar of Events
ADMINISTRATIVE MEETINGS
 
Church Board Meeting 3rd Sundays at 9:00 am
 
OTHER MEETINGS
Adventurers                             2nd and 4th Sunday at 10:00 am
Disability Committee               3rd Sabbath after Divine Worship
Elders Meeting                         2nd Sunday at 9:00 am
Health Ministries Team              2nd Sunday at 1:30 pm                                                                   Safety Committee                     2nd Sunday at 10:00 am
School Board                            2nd Tuesday at 6:30 pm