>
Home
>
About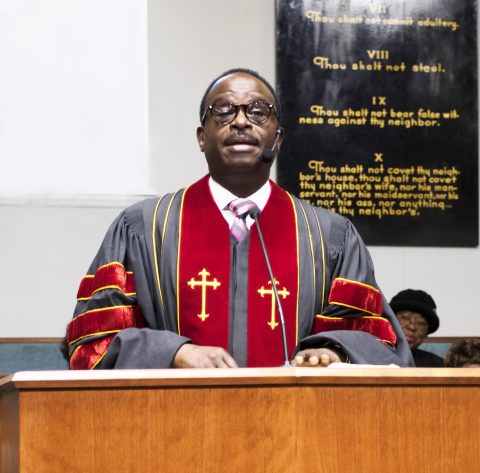 Dr. Sherwin R. Callwood,Sr.
Sherwin R. Callwood, Sr. was born in St. Thomas, US Virgin Islands.  At the age of five, he moved with his parents and siblings to New York. A notable experience from that setting was being one of the original members of the world famous Boys Choir of Harlem, New York City, which he sang with for 13.5 years.

​Pastor Callwood is a product of Christian  Education.  He attended R.T. Hudson Elementary School and Northeastern Academy where he is graduated with the highest Bible award in history at that time.  He received his BA Degree in Theology with a minor in Greek and Hebrew from Oakwood College, now Oakwood University.  He then matriculated to Christ the King Seminary and Florida Christian University where he earned his MA Degree in Biblical Studies and his Th.D Degree in Theology, respectively.  While there, he received the President's Award for academic studies.  Pastor Callwood continues his dedication to higher learning by serving as an adjunct professor for the Inter-American Adventist Theological Seminary at the Northern Carribbean University where he teaches Systematic Theology.

​Pastor Callwood has been ministering for 33 years in seven districts, covering 21 churches.  The conferences Pastor Callwood has served include Northeastern Conference, New York Conference, and presently  South Atlantic Conference.  He also  has been inducted into  The New York Metropolitan Who's Who of Minsters.

​God has blessed Pastor Callwood with a gift of pastoral evangelism, enabling him to add 84 precious souls to the church in  2010, and 55 souls in 2015, without holding formal crusades. 

​Pastor Callwood has conducted crusades, weeks of prayer, and seminars in the US, the Carribbean, South Africa, South America, and Australia.  He has been a youth speaker at various camp meetings and served as  Youth Ministries and National Servicemen's Organization Director for the  Southeastern Conference for eight years.

​In Addition to his full time pastoral assignment, he serves as Chaplain for the Civil Air Patrol of the United States Air Force.  His rank is Major.  He teaches Moral Leadership Courses on a monthly basis to the servicemen.

​Other areas of chplaincy ministry include being  a board certified ACPE hospital chaplain and an Orlando, Florida Police Department chaplain.  During the Pulse Terror attack of 2016, Pastor Callwood was asked to counsel with the families of the victims, police who were involved with the shooting, and for the 911 operators.

​Pastor Callwood has two sons: Sherwin R. Callwood, Jr, a senior studying to become a minister of the gospel at Oakwood University, and Stephen R. Callwood, an elementary school math tutor.  He has a daughter-in-law, Ruth Callwood, and the prettiest granddaughters in the world, Annabelle and Aurora Callwood.

​Pastor Callwood loves the Lord with all his heart and enjoys the ministerial gifts he's been granted by God.  He loves God's people, especially young people, and has a genuine desire to make sure that they make it to Heaven.