>
Home
>
Reserved Seating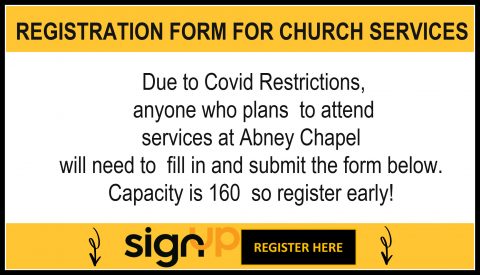 Register Now for Services on May 21,2022

Please submit ONE form only. 
*Reserve seating is now required for in-person church service.
*Please arrive 15 minutes before the start of service.
*Seating reservations will be held until 15 minutes after the start of service.
*Please wear your mask at all times and adhere to social distancing guidelines.
*Email and/or phone number is necessary in case contact tracing is needed.
* Reservations must be made weekly. No advance reservations will be accepted.
* Register once! Make reservations for yourself and/or your immediate family. 
* Direct all inquiries to abneychapel.org@gmail.com before you send a second form, or for questions.